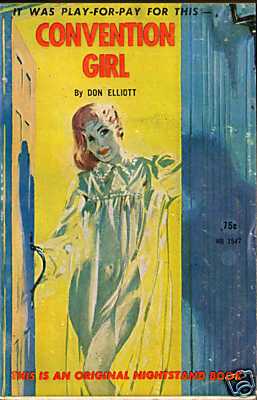 A typical paperback cover from the heyday of pulp fiction makes convention girls look carefree and glamorous. Some might have been and still be, but picking clients up at bars where convention-attendees hang out may be the sex work of everyday women, sometimes opportunist and unplanned.
It seems that Elizabeth Short was such a woman, looking to get ahead in postwar Hollywood. James Ellroy memorialised her in his novel The Black Dahlia (1987), which draws on the actual police investigation as well as the author's feelings about his own mother's murder. In Ellroy's snappy 1940s cop-lingo, women under scrutiny are described:
Together, we questioned fifty-odd people, mostly men, about their association with Elizabeth Short. We heard predictable stories of them meeting Betty in bars and buying her drinks and dinner, listening to her fantasies of being the bride or widow of war heros, bedding or not bedding her. A number of the men did not even know the notorious Dahlia–they were "friends of friends," their names passed on out of pussy hound camaraderie.

Of our parcel of names, sixteen of the guys were what Fritzie labeled "Certified Dahlia Fuckers." They were mostly lower-echelon movie minions: agents, talent scouts and casting directors who hung out at Schwab's Drugstore chasing gullible would-be starlets, empty promises on their lips, Trojan "value packs" in their pockets. They told proud or shamefaced casting couch stories every bit as sad as Betty's tales of bliss with studs in uniform. Finally, the men in Elizabeth Short's little black book had two things in common–they got their names in the LA dailies and they coughed up alibis that eliminated them as suspects. And word filtered back to the squadroom that the publicity eliminated more than a few of them as husbands.

The women–just pals–girl talk acquaintances, fellow cocktail lounge cadgers and aspiring actresses heading nowhere. A dozen or so were hookers and semi-pro B-girls, instant soulmates that Betty met in bars. They gave us leads that petered out on follow-up investigation–basically, the word that Betty sold herself freelance to conventioneers at several lower-class downtown hotels. They hedged that Betty rarely peddled it, and could not identify any of her tricks by name; Fritzie's canvassing of the hotels got him an angry zero.– The Black Dahlia
Pussy-hounds: marvellous. B-girls are bar girls, if you didn't know. But hanging out waiting for an opportunity leads to terms like semi-pro. What if you have sex with someone who might give you a part in a film, apart from buying you dinner tonight? Did the crime against Betty the Dahlia occur because she was having sex or because she was an opportunist or because it was LA or because there was a sadistic killer at large? To blame it on prostitution is — limiting.
Ellroy includes Mexican migration in The Black Dahlia too.
–Laura Agustín, the Naked Anthropologist