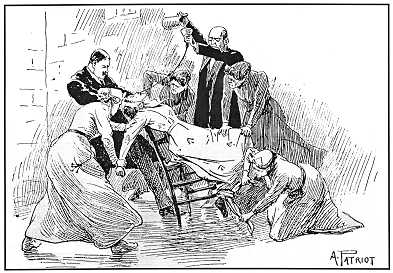 Last week I spent most of a day watching the Supreme Court's hearing of arguments on Canadian prostitution law, the upshot of four years of legal battling since the Ontario Superior Court of Justice's 2010 decision that it was unconstitutional. (I tweeted the event, look here on 13 June). While studies of different kinds were sometimes mentioned at the Supreme Court, no so-called experts (on the basis of academic-style research) spoke. This contrasts with what happened at the original trial.
In October 2010 I ran excerpts from Judge Himel's decision on her experience and understanding of opposing expert opinions about the harm of prostitution on society and the harm of the law on those who sell sex. I have the impression Judge Himel was appalled by some of the declaiming she heard, and I am surprised the anti-prostitution witnesses did not think about moderating their strident tone before appearing in a High Court. Before I write about the Supreme Court hearing, here again are the excerpts. Himel's thinking is interesting to people interested in the idea of evidence – what qualifies, how it's evaluated. Or read her full decision. Before discussing experts' views she addresses conflicting evidence from women who sell sex.
Evidence from Prostitutes and Former Prostitutes
[85] The applicants submitted affidavits from eight witnesses who described their perceptions and experiences of working as prostitutes. During oral argument, the applicants' counsel submitted that the purpose of these witnesses was to provide "corroborative voices" . . . [86] The affiants came from varied backgrounds and from across Canada, but largely shared the experience of finding prostitution in indoor venues generally safer than street prostitution (indeed, a few experienced no violence at all working indoors). . . they entered into prostitution without coercion (although financial constraints were a large factor) and most reported being addiction-free and working without a pimp.
[87] The respondent tendered nine affidavits from prostitutes and former prostitutes, whose stories painted a much different picture. The respondent's witnesses gave detailed accounts of horrific violence in indoor locations and on the street, controlling and abusive pimps, and the rampant use of drugs and alcohol.
[88] While this evidence provided helpful background information, it is clear that there is no one person who can be said to be representative of prostitutes in Canada; the affiants are an extremely diverse group of people whose reasons for entry into prostitution, lifestyles, and experiences differ.
Expert Evidence
[99] While neither party disputed that the other party's witnesses were, in fact, experts, a great deal of argument and evidence was devoted to criticizing these witnesses. Both parties alleged that certain experts were biased, that conclusions were generalized beyond the sample studied, that studies were methodologically flawed . . .  [114] The following factors are relevant to the consideration of the weight to be given to expert evidence:
a) Unwillingness of the expert to qualify an opinion or update it in the face of new facts provided (often in cross-examination);
b) Bold assertions without a properly outlined basis for the claim;
c) Refusal to restrict opinions to expertise or the expertise demarked by the judge as required by the court;
d) Lack of sufficient independence from the party proffering the expert; and
e) Prior history as an advocate on the topic.
[182] In reviewing the extensive record presented, I was struck by the fact that many of those proffered as experts to provide international evidence to this court had entered the realm of advocacy and had given evidence in a manner that was designed to persuade rather than assist the court. For example, some experts made bold assertions without properly outlined bases for their claims and were unwilling to qualify their opinions in the face of new facts provided. While it is natural for persons immersed in a field of study to begin to take positions as a result of their research over time, where these witnesses act primarily as advocates, their opinions are of lesser value to the court.
[183] The evidence from some of these witnesses tended to focus upon issues that are, in my view, incidental to the case at bar, including human trafficking, sex tourism, and child prostitution. While important, none of these issues are directly relevant to assessing potential violations of the Charter rights of the applicants.
[352] I find that some of the evidence tendered on this application did not meet the standards set by Canadian courts for the admission of expert evidence. The parties did not challenge the admissibility of evidence tendered but asked the court to afford little weight to the evidence of the other party.
[353] I found the evidence of Dr. Melissa Farley to be problematic. Although Dr. Farley has conducted a great deal of research on prostitution, her advocacy appears to have permeated her opinions. For example, Dr. Farley's unqualified assertion in her affidavit that prostitution is inherently violent appears to contradict her own findings that prostitutes who work from indoor locations generally experience less violence. Furthermore, in her affidavit, she failed to qualify her opinion regarding the causal relationship between post-traumatic stress disorder and prostitution, namely that it could be caused by events unrelated to prostitution.
[354] Dr. Farley's choice of language is at times inflammatory and detracts from her conclusions. For example, comments such as, "prostitution is to the community what incest is to the family," and "just as pedophiles justify sexual assault of children….men who use prostitutes develop elaborate cognitive schemes to justify purchase and use of women" make her opinions less persuasive.
[355] Dr. Farley stated during cross-examination that some of her opinions on prostitution were formed prior to her research, including, "that prostitution is a terrible harm to women, that prostitution is abusive in its very nature, and that prostitution amounts to men paying a woman for the right to rape her." [356] Accordingly, for these reasons, I assign less weight to Dr. Farley's evidence.
[357] Similarly, I find that Drs. Raymond and Poulin were more like advocates than experts offering independent opinions to the court. At times, they made bold, sweeping statements that were not reflected in their research. For example, some of Dr. Raymond's statements on prostitutes were based on her research on trafficked women. As well, during cross-examination, it was revealed that some of Dr. Poulin's citations for his claim that the average age of recruitment into prostitution is 14 years old were misleading or incorrect. In his affidavit, Dr. Poulin suggested that there have been instances of serial killers targeting prostitutes who worked at indoor locations; however, his sources do not appear to support his assertion. I found it troubling that Dr. Poulin stated during cross-examination that it is not important for scholars to present information that contradicts their own findings (or findings which they support).
[358] The applicants' witnesses are not immune to criticism. . . During cross-examination, Dr. Lowman expressed discontent with portions of his affidavit, citing "careless" language and "poorly reasoned argument." Dr. Lowman rightly takes responsibility for the content of his affidavit, which was drafted for him by law students. In his affidavit, Dr. Lowman made a direct causal link between the Criminal Code provisions at issue and violence against prostitutes; however, during cross-examination he gave the opinion that there was, rather, an indirect causal relationship. Such inattentiveness on such a crucial issue is indeed concerning. During cross-examination, Dr. Lowman gave nuanced and qualified opinions, which more accurately reflect his research.
–Laura Agustín, the Naked Anthropologist