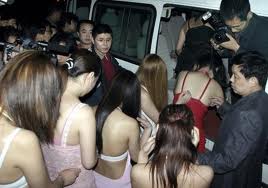 For campaigners like Ashton Kutcher, sex slavery is an easy-to-recognise phenomenon with a single obvious cure, rescue: first by police and then by social workers. And despite rescuers' avowed respect for personal stories, they never listen to voices that criticise this cure. The poster below was made by migrant sex workers (they call themselves that) in Chiang Mai, Thailand, at the EMPOWER centre. I have posted it before but so many people are still unaware of the problems associated with Rescue that I like to re-run it. See for yourself the reasons workers at Barn Su Funn Brothel gave for denouncing raids and rescue operations intended to liberate them, whether rescuers are police officers, ngo employees or even celebrities and then think twice about how you will Fix Their Lives so easily.
• We lose our savings and our belongings.
• We are locked up.
• We are interrogated by many people.
• They force us to be witnesses.
• We are held until the court case.
• We are held till deportation.
• We are forced re-training.
• We are not given compensation by anybody.
• Our family must borrow money to survive while we wait.
• Our family is in a panic.
• We are anxious for our family.
• Strangers visit our village telling people about us.
• The village and the soldiers cause our family problems.
• Our family has to pay 'fines' or bribes to the soldiers.
• We are sent home.
• Military abuses and no work continues at home.
• My family has a debt.
• We must find a way back to Thailand to start again.
The poster brings us close to a situation many people doubt: that poorer migrants selling sex often prefer to continue what they're doing to being forcibly rescued by people on anti-trafficking crusades. This is not to cast doubt on many helpers' good intentions or the genuine rescue of some individuals. But it shows how rescue agents haven't consulted the prostitutes they want to save first, to find out whether they want to be helped and, if they do, what kind of help would actually be helpful. The poster makes it clear that cutting migrant women off from their source of income has drastic consequences for themselves and their families.
This does not mean that they or I deny the existence of abusive practices inflicted during smuggling and trafficking operations. It means that an ideological stance that claims all migrants doing sex work have been victims of such practices is wrong. Check the rescue tag to read more, including stories of sex workers resisting arrest and fleeing from rescuers.
During my years of researching this subject, I have met migrants of myriad nationalities, in many countries, in bars, brothels, shelters, ngo offices, streets, clubs and houses. Some had had bad experiences, some had not recovered from them yet, some were getting on with the next stage of their lives, some enjoyed doing sex work, many had adapted to it as the best option of the moment. For those who want to read more about it, my book Sex at the Margins has lots of details. Here's another view: