When the topic is selling sex outdoors, mainstream media stick to the same photos over and over. Generally now posed, the shots show young female bodies chopped off at the head or feet or waist, standing in dark city streets. I don't need to give an example because you've instantly visualised what I'm talking about. So when I posted an item on facebook from The Local that carried this photo with pink and green chairs, many people sounded surprised.
If you don't bring a chair, sometimes there's a kerb to sit on. If there's not, you might lean on metal barriers. But chairs of all portable types are common along highways in Cataluña, despite longtime attempts by local communities and police to stop the whole activity. Gavà, Castelldefels, Viladecans, Les Filipines – not far from the beach or downtown Barcelona. Places where traffic slows down, where there's a place to pull over.
These are workplaces to which workers bring staple items: a rucksack with food, makeup, clothes, towels. A parasol, wastebasket, extra plastic bags. A book to read, a thermos of coffee, sunscreen. I mention all this because anti-trafficking and anti-prostitution campaigns focus exclusively on the question of choice: whether any of these women really knew what selling sex would be like when they came to these highways from Rumania, Bulgaria or anywhere else. Whether they can be granted any agency at all, whether prostitution carries a transcendent meaning for feminism. Abstract questions rather than everyday culture in which individuals experience their own workaday lives. Looked at from this other viewpoint, it's clear women treat these sites as workplaces, and that's whether the person coming to pick them up after their shift is a friend or some kind of controller.
This isn't a merely ethnographic value to be pooh-poohed by hard-hitting ideologues. To know about sex work you need to do more than think in the abstract. You need to look at what there is to look at, listen to the music and read more than tweets and policy-papers. Observing the workplace, even if you feel appalled that it's out on a highway in the hot sun, allows you to see that the women are not only waiting passively as if with a whip over their heads but exercising small choices about their comfort.
The most ethereal of these pictures come from Txema Salvans, whose project The Waiting Game shows many more shots of sex workers along these highways.
Some of the chairs are not so portable after all, but I really like the empire-style fringed one above. The pictures also show that some workplaces are shared – and some chairs.
I've written about sexwork-places in Spain many times before, including:
The Sex Industry in Spain: Sex clubs, flats, agriculture, tourism
Sexwork and migration fiction, part 2: Jobs in the sex industry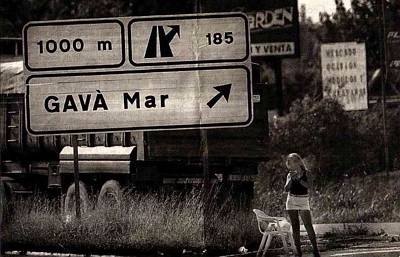 —Laura Agustín, the Naked Anthropologist