Despite how it might look to those who've known me only since Sex at the Margins, I'm not making a sudden switch to fiction. It's one of the things I used to write before the Internet, before doing postgraduate degrees, before social media. I began this story, in my head and scribbled notes, not long after starting those degrees in the late 90s. This I now understand to show how quickly I grasped the limitations of academic work. There's nothing left of that first version but the concept: a searcher for missing migrants in economic and social undergrounds, multicultural and hybrid settings, job markets that routinely include sex. In general such stories are not published unless the migrants are portrayed as passive victims needing rescue by much straighter and more comfortable characters.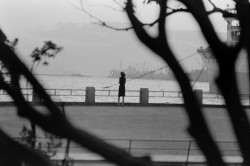 The Three-Headed Dog is about undocumented migrants in Spain and their smugglers. A lot of them work in different segments of the sex industry. The incidents portrayed would be labelled trafficking and the migrants victims by anti-prostitution and anti-migration campaigners. I don't see things that way. Just as I strove to show in Sex at the Margins that many migrants don't perceive themselves as inert objects of cruel fate and evil men, here a few of them act out their stories, trying to find ways to get ahead and stay out of trouble.
Fiction is not the opposite of fact; truth is glimpsed in different ways. The characters here are neither real nor unreal but created themselves in my imagination out of my long experience of travelling on my own and talking with people. I've seen everything that happens in this book. I've known people who thought and acted these ways. But all migrants don't experience things the same way, and they may change how they feel over time. The fact they share is not having legal status to be and work where they are living (under constraints and duress). Falsehoods are fundamental. My intention is not to romanticise but pay attention to lives nearly always shoved out of sight.
About genre labels 
To publish is to choose categories for databases. The Three-Headed Dog is a mystery, a crime story, a (hardboiled) detective novel short on gore and violence. A noir. Noir signifies a dark, morally complicated mood (the opposite of a clear struggle between good and evil). That doesn't make it amoral (an accusation often thrown at me). The detective's moral compass shifts as a result of introspection. Good is often tinged with bad, and attempts to do right go wrong. Exploitative characters can be sympathetic. It's shadowy in noir; the lighting is low. But in low light you see things you don't see in the bright.
The style is terse: that's really me. Pithiness works to suggest meanings rather than lay them out. Mine is a rather anti-Enlightenment endeavour. You get glimpses of truths and they contradict each other.
See what you make of The Three-Headed Dog. I published it on Amazon Kindle, but you don't have to own a kindle device to read it. Links to free apps are right there. If you leave a few lines of review when you finish you make it likelier Amazon's search machine will find and show the book to new readers.
I will be musing more about why and how I wrote this book. Leave questions here and I'll try to answer them.
If you want to read more, subscribe to email notifications at the bottom of the right-hand column. If you were already subscribed, I'm sorry to say the earlier software broke and your address was lost, so take a few seconds to subscribe anew. The RSS feed is still A-okay.
-Laura Agustín, The Naked Anthropologist