Sex at the Margins: Migration, Labour Markets and the Rescue Industry was published by Zed Books in London in 2007. From 2008-2015 I blogged often about issues covered in the book, and many of my published articles are available on this website (and others), but to get the full picture, to see how the different topics join up, you need to read the book. Or at least ruffle through, skim or jump ahead if you begin to nod. As I said in Dear Students of Sex Work and Trafficking, my ideas can't easily be boiled down to bullet points or a FAQ.
I began consciously thinking about these issues in the first part of the 1990s and went on to do postgraduate degrees just because I was so interested. But the book is not out of date. A few years ago, listening to arguments against allowing women to sell sex in France it struck me how little anything had changed. Abolitionists and other Rescue Industry folks fail to comprehend what motivates migrants just as hard-headedly as they did 20+ years ago, when my attention was first caught by them. It would seem that middle-class Rescuers are blind to the lack of options available to so many migrants and refuse to believe they have learned about life through experience, instead projecting their own feelings without even a pretense of listening to them.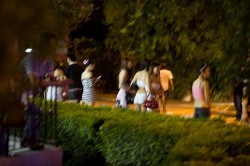 What study after study has found all over the world is that migrants often prefer to take up riskier, better-paying jobs when the alternatives also offer low prestige and much less money. In the course of my wanderings in Europe, to try to understand, before it could be called research, I learned that many women not migrating look at the world and their places in it in the same way, and that has not changed either. The margins in this book are occupied not only by migrants but lots of people who haven't travelled anywhere.
The book has been reviewed many times (list here – let me know if I've missed any). A number of the reviews are available to read via links. Reviews in academic journals abound, though the structure of Sex at the Margins does not conform to academic conventions. I also edited the style and vocabulary of the original doctoral manuscript to be clearer and shorter.
Although Sex at the Margins sells steadily without getting any real promotion and is on many university reading lists, you are unlikely to find it in bookshops. But it is easily available to buy online in several formats:
Zed Books sets the price too high. I have no say in that, alas. I am struck that it still sells well many years after publication.
–Laura Agustín, the Naked Anthropologist