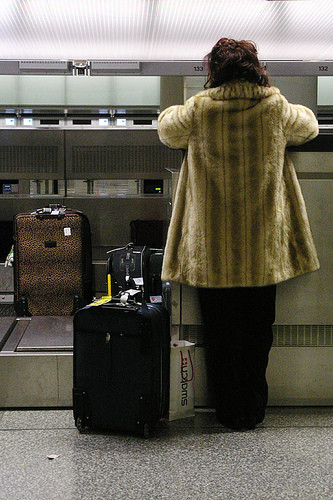 You paid someone to help you leave home, travel across borders or into unknown areas of your own country. You knew you'd be selling sex but probably not much about how it would work. You might not think of yourselves as migrants but as travellers. There's no need for you to label yourselves based on jobs you take. But others will talk about you and find it convenient to give you an identity-label: Migrant sex workers. Foreign prostitutes. Escorts. Victims of trafficking. Sex slaves.
You look like other woman travellers in the airport. Maybe you bought the ticket online yourself, or maybe someone else did and gave you the booking number. You might be using your own passport applied for by you in the normal way in your country. Or maybe you paid someone to get you a passport under another name or age. You may understand that this implies your connivance in committing crime, or you may not.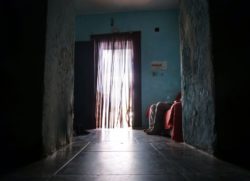 However things work out for you, there will be stories about how miserable you are. No way out for Almería's prostitutes relies on the fact that most undocumented migrants, whatever your jobs, take on debt in order to leave home, arrive to another place and get into paying work. The debts often sound outlandish to outsiders, leading them to describe you as enslaved (using the term debt bondage when they don't ever refer to mortage- or student-loans like that).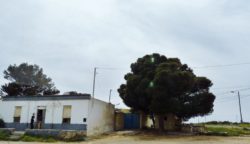 A recent photo series taken at a brothel in Roquetas de Mar purports to show how awful living and working conditions are for migrant sex workers: Infamous Farmhouses (Cortijos de la infamia). But, if you already know from personal experience how poverty and informal or illegal businesses look, you won't be upset by shots of rubbish in the street. You may even see the bright side of landscapes or interiors, despite their being shot with the purpose of horrifying outsiders. [Note that the caption to this photo describes the women as fleeing inside to escape photographers.]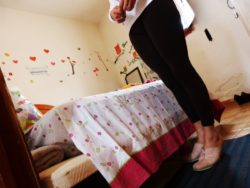 The disconnect between how outsiders see these scenes and what they mean to migrants is apparently unfixable. I was once challenged, after a speech I'd given, to admit that migrants are, objectively speaking, victims (because of structural inequalities if nothing else, but of course there was a lot else.) I responded that I understood why she, a middle-class educated and avowed Socialist, might view poor migrants as victims. But, I said, if you shift to their point of view then you don't see things that way. You see yourselves as taking actions to get ahead inside very shitty life circumstances.. That's what I do, rather than labelling. I look at the situation from the subjects' standpoint.
There's no doubt that smugglers often lie and take advantage of travellers who have paid for their services. But campaigns to keep everyone at home in case they might be mistreated by smugglers miss the fundamental point: In the absence of hope for the future people are willing to take risks. In the case of Colombian women hiring smugglers to take them to China, the government campaign aims to ensure that 'women don't believe in the offers of easy money to be made abroad.' But money is made abroad, and lots of it, and no migrant I ever met expected it to be easy. More to the point, everyone doesn't suffer the same abuse; experiences vary. But what all migrants are doing is taking risks.
It's not fair, of course it's not. But insisting everyone is by definition better off staying at home rather than taking risks is crazy in a world where transport is easily available and the adventure of travel is promoted constantly. And without new kinds of flexible migration policies the informal market where smugglers operate will continue unregulated. Putting smugglers in prison will not stop others from entering the field. [Note smugglers are often referred to as travel agents by their paying customers.]
In Sex at the Margins, I avoided labelling women migrants as much as possible. On Twitter I often use the tag #migrantsexworkers for brevity's sake, but most people don't label themselves anything. Imagine the term migrant construction workers or migrant kitchen help: they sound silly because it's understood that they're not identities. They're temporary descriptions of folks going through a life-stage. Plenty of women who sell sex don't call themselves sex workers or prostitutes or anything else. I used to hear women saying I work at night. For that matter, even if you identify as a victim of trafficking, that, too, is a temporary description. Not an identity.
After all, you may have started out doing another job after moving to a new country. For women that's likely to be some kind of domestic service (as a maid, nanny, cleaner). But if and when that didn't work out you may have switched to selling sex. Take the recent case of a Bangladeshi migrant in Abu Dhabi and Dubai.
In The Three-Headed Dog, characters are going through migration processes, not taking on job-labels. Yes, it's a crime novel, but one about ordinary people in common situations. They have names, they talk, and none is either a Happy Hooker or a permanently damaged victim. I began writing fiction about these subjects to escape from tedious, repetitive debate-formats where black-and-white questions make nuance impossible.
I'm now being accused by fanatics of 'sanitising' injustice by sometimes using the term migrant sex workers. Thank goodness it doesn't matter to most of you which language or label I use: call yourself what you like. That's the point.
-Laura Agustín, the Naked Anthropologist