In today's shrill anti-trafficking culture any differences in forms of facilitating prostitution/ sex work are practically erased. I'm not talking about whether anything is fair or gender-equal or exploitative here but about the many ways humankind has evolved for making money through commercial sex. In James Lee Burke's Cadillac Jukebox (1996) one swindle involving sex work in New Orleans is described: the Murphy scam.
Vice had identified the hooker as Brandy Grissum, a black twenty-five-year-old heroin addict who had done a one-bit in the St John the Baptist jail for sale and possession.

She worked with three or four pimps and Murphy artists out of the Quarter. The pimps were there for the long-term regular trade. The Murphy artists took down the tourists, particularly those who were drunk, married, respectable, in town on conventions, scared of cops and their employers.

It was an easy scam. Brandy would walk into a bar, well dressed, perhaps wearing a suit, sit at the end of the counter, or by herself in a booth, glance once into the john's face, her eyes shy, her hands folded demurely in front of her, then wait quietly while her partner cut the deal.

This is the shuck: 'My lady over there ain't a reg'lar, know what I'm sayin'? Kind of like a schoolgirl just out on the town.' Here he smiles. 'She need somebody take her 'round the world, know what I'm saying'? I need sixty dollars to cover the room, we'll all walk down to it, I ain't goin' nowhere on you. Then you want to give her a present or something, that's between y'all.' — p 24, Cadillac Jukebox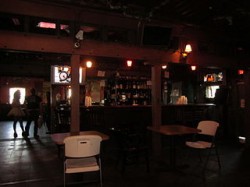 The Murphy scam is robbery by a couple who lure a client to a room to have sex (in exchange for seemingly reasonable, non-professional fees). After client and woman are in bed the other partner rushes in posing as a jealous husband (or whatever). The client leaves in a hurry and the Murphy artists collect his belongings and money.
In Burke's description Brandy works with several pimps as well as with Murphy artists, so even though she's an addict she is not anyone's slave. We aren't told what proportion of the takings she gets, so we don't know how bad a deal she has. The scam is interesting in offering a kind of commercial sex palatable to clients who cannot see themselves as clients and thus lend themselves to being scammed. A different kind of 'demand' – that now over-used, less-meaningful-than-ever term. A man who can be 'lured' – not much of a monster. More on different kinds of pimping in Nesbø's Blood on Snow and in my own The Three-Headed Dog.
This is part of a series of posts about sex work in fiction. The other day it was Doris Lessing's turn.
–Laura Agustín, the Naked Anthropologist