In chapter four of Sex at the Margins, I look at history, at the period when the bourgeoisie started to define what society should look like and how everybody should live (whilst nobility and monarchy were fading from power). I did this historical research to try to understand what saving prostitutes was about, how it began and why. The result of that research was really revealing, showing how the role of Rescuer depends on the existence of Victims who need Rescue because their ways of life appear to be wrong. If you want the full-strength theoretical version, read Helping Women Who Sell Sex. The Rescuer gains a positive sense of identity, of Doing Good.
I do not mean to sneer at anyone's feelings about life's meaning or the desire to diminish injustice. But it is important not to take at face value claims to be Helping, Saving or Rescuing just because people say that is what they are doing. I take note of how the Rescue Industry sustains itself and grows, how the cultural meaning of helping and saving changes over time, and I am interested in who gets involved and what they say about their actions.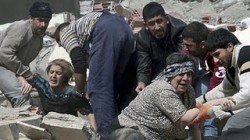 In the midst of economic crisis, intransigent armed conflicts, increasing socio-economic inequality and general anomie, anti-trafficking and anti-slavery campaigns flourish, with more people and more money involved all the time. Presumably it just feels good, being able to be part of something Big and also something apparently Simple, in which everyone can agree: Slavery is bad. Look at images of Rescue Operations, with people rushing in to save others they don't know from fires and earthquakes: some people find these actions to be the height of nobility.
Celebrities jump on bandwagons for the sake of publicity, which we may giggle over (consider Ashton Kutcher, Emma Thompson and Mira Sorvino.) But the following comments, which come from a serious person, struck me. Kristen Lindsey expresses a sense of thrill at getting to be part of the anti-slavery crusade, at having arrived on time to Do Something about a social scourge. Her words actually make me slightly queasy: the presence of suffering makes her glad because it gives her Important Work to do. The construction of her own identity is the point.
None of us are free, Kristen Lindsey, 26 October 2011, The Huffington Post

… Growing up, just after the 1960s, I feared that I had missed my chance to take part in the most important movement in our country. I now know that I have found my place — and that all of us can step up and join a movement that matters. This year, I became CEO of The Global Fund for Children…

…The torch has been passed to us. Putting an end to modern day slavery is our civil rights movement. Now it's our time to make a difference, and we must continue to work together to ensure that people everywhere are free.
Anyone who still thinks this movement is about women who sell sex: Wake up. It's gone way, way past that.
–Laura Agustín, the Naked Anthropologist