Since I'll be talking about sex work as a labour issue at the Anarchist Bookfair, I thought I would re-run an early academic publication of mine, A Migrant World of Services. In my quest to understand why so many people disqualify selling sex as a potential job, I looked critically at traditional economic concepts such as the distinctions between productive and unproductive labour and between formal and informal employment sectors. I discovered these concepts are entirely arbitrary and out-dated and produce oppression for no good reason. For example, the majority of women's work inside homes is labelled unproductive, and probably the majority of women's jobs outside the home are also disqualified as real and productive by relegating them to the informal sector of the economy. I couldn't see, and still cannot, how an economic sector  named Services, which takes in a raft of jobs, could exclude so many women's jobs, so I also investigated ideas about emotional and caring work. Not only migrants are ripped off by these disqualifications – all are, and when men do these jobs they are as well.
A Migrant World of Services (pdf)
Social Politics, 10, 3, 377-96 (2003)
Laura Maria Agustín
Abstract: There is a strong demand for women's domestic, caring and sexual labour in Europe which promotes migrations from many parts of the world. This paper examines the history of concepts that marginalise these as unproductive services (and not really 'work') and questions why the west accepts the semi-feudal conditions and lack of regulations pertaining to this sector. The moral panic on 'trafficking' and the limited feminist debate on 'prostitution' contribute to a climate that ignores the social problems of the majority of women migrants.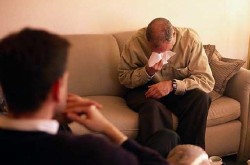 In a variety of scenarios in different parts of Europe, non-Europeans are arriving with the intention to work; these are largely migrant women and transgender people from the 'third world' or from Central and Eastern Europe and countries of the former Soviet Union. The jobs available to these women in the labour market are overwhelmingly limited to three basic types: domestic work (cleaning, cooking and general housekeeping), 'caring' for people in their homes (children, the elderly, the sick and disabled) and providing sexual experiences in a wide range of venues known as the sex industry. All these jobs are generally said to be services.
In the majority of press accounts, migrant women are presented as selling sex in the street, while in public forums and academic writing, they are constructed as 'victims of trafficking.' The obsession with 'trafficking' obliterates not only all the human agency necessary to undertake migrations but the experiences of migrants who do not engage in sex work. Many thousands of women who more or less chose to sell sex as well as all women working in domestic or caring service are 'disappeared' when moralistic and often sensationalistic topics are the only ones discussed. One of the many erased subjects concerns the labour market—the demand—for the services of all these women. The context to which migrants arrive is not less important than the context from which they leave, often carelessly described as 'poverty' or 'violence.' This article addresses the European context for women migrants' employment in these occupations. Though domestic and caring work are usually treated as two separate jobs, very often workers do both, and these jobs also often require sexual labour, though this is seldom recognised. All this confusion and ambiguity occurs within a frame that so far has escaped definition.
For the rest, get the pdf.
–Laura Agustín, the Naked Anthropologist