Protocols attached to the UN Convention on Transnational Organised Crime (Palermo, 2000) attempt to distinguish between the trafficking and smuggling of people. The trafficking protocol explicitly mentions women, children, coercion and prostitution and fails to mention the will to travel. The smuggling protocol, in contrast, discusses men as migrants and does not mention sex or prostitution. This gender bias has several negative, confusing effects and is far from vaunted goals of Gender Equality.
Women are positioned as sexually vulnerable above all
Women are lumped with children as though we were children
Women are not seen as capable of initiating migrations
Women are not seen as capable of preferring to sell sex over other options
Men are not seen as capable of being trafficked in the worst sense
Men are not seen as capable of preferring to sell sex over other options
Men are associated with dodgy behaviour such as paying someone to help them get around the rules
The following three news clips illustrate how sex and gender often have little to do with irregular (also known as unauthorised, undocumented and illegal) travel. These incidents would be called smuggling. In at least two of the following cases migrants can't be called undocumented, because papers have been provided for them – just not their own correct papers.  The point is that many skilled smugglers and traffickers go about their business without resorting to the sort of obvious violence and near-kidnapping that makes sensational stories. Whether a candidate for travelling abroad to work considers selling sex or not,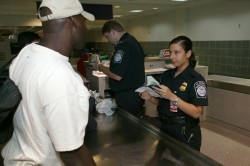 his or her best route is to find someone to arrange for convincing papers. While campaigners shriek about near-kidnappings and women in chains, the industry in false papers goes on its sophisticated way. This is one reason why queues get longer and slower at borders. Note in two of the following cases that officials (one from an embassy and one from a national immigration bureaucracy) are the smugglers.
NB: The fact that false papers were provided does not mean that no traumatic experiences were involved for migrants, that there was no violence or that they knew exactly what they were getting into. We also don't know which jobs they got or whether they liked them. Sex is not the defining element to these stories, yet many migrants who sell sex use these conventional, if illegal, methods for entering other countries.
CASE 1 – ICE Investigator Arrested For Accepting Bribe
World Journal,  Nov 29, 2008
NEW YORK – U.S. Immigration and Customs Enforcement (ICE) investigator Pedro Cintron was arrested for taking bribes from human smugglers and helping them to illegally transport Chinese people from Ecuador to the United States. The World Journal reports that once convicted, he could be sentenced into prison for up to 57 years. Cintron, 52, investigated Chinese human smuggling from Ecuador to the United States in 2004 and 2005. He took over $20,000 bribe from the smuggler and helped several Chinese successfully land to the United States.
CASE 2 –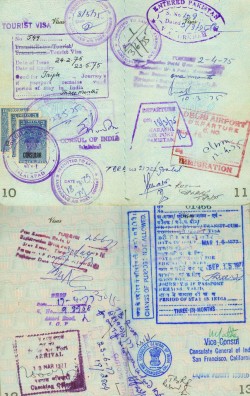 Dominican Diplomat Arrested for Smuggling Dozens to US
CaribWorldNews, Dec 09, 2008
NEW YORK — An employee at the Consulate of the Dominican Republic in New York City has been arrested on charges of migrant smuggling.

U.S. Immigration and Customs Enforcement agents have arrested 48 year-old, Francisco Estevez, also known as "Danilo," on charges of using his family's passports and consular visas to bring dozens of illegal aliens into the United States from the Dominican Republic during 2007 through 2008.

According to the indictment unsealed Monday in Manhattan federal court, as a full-time employee at a consular post, Estevez held a diplomatic visa that allowed him and his family members-his mother, wife, and six children-to enter and reside in the United States. In addition, he and his family were entitled to receive expedited process at passport control at the airport.

Commencing in approximately October 2007, up to and including July 2008, Estevez allegedly took advantage of his A-2 visa status to smuggle into the United States numerous Dominican nationals who posed as members of Estevez's family, using the family's passports and A-2 visas. Estevez made on average two trips per month to the Dominican Republic to identify aliens who could pose as members of his family and charged each alien approximately $10,000 to bring the migrants into the country illegally.

Estevez is charged with two counts of alien smuggling and if convicted, faces a maximum sentence of 20 years in prison. He was arrested Friday upon his entry into the United States and is scheduled appear today before a United States Magistrate Judge in the Eastern District of Pennsylvania.
CASE 3 – Filipino Admits to Smuggling Immigrants Into US
California Journal For Filipino Americans,  Jun 28, 2006
PHILADELPHIA – A Filipino man has admitted to smuggling an estimated 25 undocumented immigrants into the United States on stolen third-country passports for which they paid as much as $15,000 each, reports California Journal For Filipino Americans. Roehl Rivera, 41, of Cabanatuan City, Philippines, smuggled undocumented immigrants between May 2005 and January 2006 on Continental Airlines flights from Hong Kong to Newark Liberty International Airport in New Jersey, according to prosecuting attorney Christopher Christie. Rivera and three others were detained at the airport on Jan. 6. They were caught traveling on altered passports illegally obtained from Micronesia's embassy in the United States. Rivera, who is charged with conspiracy to smuggle illegal immigrants for private financial gain, faces up to five years in federal prison and a $250,000 fine.