See this perfectly ordinary building? Most sex is sold here, out of conventional flats and apartments, anywhere in the world. The photos of women on the street beloved of dull editors teach that sex work is in the street, and the other photos editors use, of women sitting on barstools, teach that whatever's not in the street is in brothels or sex clubs. On the contrary, of the many millions worldwide who sell sex of all kinds, most undoubtedly operate discreetly via telephone from their own residence or someone else's, in the conventional housing we all live in. The photos here are European examples because a conference I'm speaking at speculates about Europe. From the website:
Sexual Citizenship and Human Rights: What Can the US Learn from the EU and European Law?
22-24 November 2013
University of Texas at Austin Law School
Eidman Courtroom, Room 2.306
727 East Dean Keeton Street
Map
The conference will focus on several difficult issues at the intersection of sexual self-determination and human rights, including same-sex marriage and family, the potential and limits of anti-discrimination laws, transgender rights, sex work and trafficking, youth sexuality, pornography as it affects minors, and the regulation of sex offenders. Individual papers will explore European and American attitudes and practices on each of these issues, with the goal of presenting new conceptual paradigms for future reform efforts. The conference brings together academics, practicing attorneys and therapists, state policy makers, and activists from various points of view.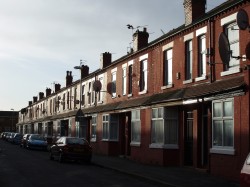 Attendance is free but registration is required. Full programme
Saturday 23 November
5:15-7:00 p.m. Session Six: Sex Work, Migration and Trafficking

Laura Agustín

Contentious and Contradictory: Prostitution-law Campaigns in Europe (30 min)

Despite the sex-industry's proliferation into areas where prostitution laws hardly apply, Europeans quarrel tirelessly over which law is correct. Notions of how to protect and serve women compete: 1-the Swedish/Nordic model, which prohibits buying sex whilst allowing its sale, holding that prostitution is violence against women and an absolute impediment to gender equality; 2- regulationism (partial legalisation), which favours allowing middle-class commercial establishments (clubs, bars, brothels) and prohibits street prostitution; 3-decriminalistion, which demands removal of all laws that penalise sex work and favours independent work. Ill-informed campaigns about sex trafficking obstruct pragmatic discussion of now dysfunctional migration laws. Essentialist notions of national sexualities compete with Europeanist proposals, and academic claims about 'evidence of harm' muddy the waters. The result is a constant barrage of contradictory messages.
I am not a habitual conference-goer. I do not like to sit passively all day or listen to short versions of deep topics and I have never found the kind of socialising that happens enjoyable. I also hate flying in, living in a hotel and flying out, seeing and feeling nothing of the location but university halls, hotel salons and predictable tourist sights. (I'm going to this thing because I can stay a week, so if you are in Austin…) And now that the law penalising men who buy sex is going to pass in France, I'll have even more to say than I planned when I wrote that abstract.
I reject reductionist ideas about national cultures and have long thought of myself as a sort of anthropologist of Europe. I believe the move of the law to continental Europe changes the game. I personally am not surprised, perhaps because I've lived and spent lots of time in France, Spain and Italy and experienced the same feelings and arguments on the subject of prostitution everywhere. Particularly I've experienced the same feminist battles in the same tedious war for coming on to 20 years, so I don't subscribe to the idea that a few Swedes caused all this client-hating. Once in Valencia I was asked by a renowned Socialist lawyer if I was in favour of torture and arms-trafficking, given my opposition to the present sex-trafficking crusade. I moved away from Madrid because the abolitionist feminists there not only drove me round the bend but made me nervous for my own safety at one event. That was the one where a French woman boomed out We don't have to talk to prostitutes to know what prostitution is. When I was evaluating anti-violence projects for the European Commission, a Belgian at the European Women's Lobby denounced me to the director as morally inappropriate, losing me the job. All these attacks took place ten or more years ago, long before Sex at the Margins came out.
After Italian media picked up last week's story about France, an Italian abolitionist published an attack on me and Thierry Schaffauser entitled Negazioniste della tratta e attori porno smemorati because, as Mira Sorvino's pals said, I am a Holocaust Denier. Someone seeing the recent attack wrote Questa Augustin è una criminale, in poche parole. [Other Italians responded with defence immediately, more on that another time.] Some educated, feministically-inclined women and men have deplored sexworker-rights ideas in every culture, and others oppose them everywhere as well.
Swedes developed this particular law, but other laws, other ordinances, other police rules have attempted to destroy prostitution before, and not only because it is a social nuisance in the eyes of some but because it is considered wrong. Women who sell sex are often now talked of as victims rather than criminals, increasingly even in the USA, where they are actually criminals by law. The whole premise of the Rescue Industry is to save innocent people from sex-exploiters, with actions that make sense inside all sorts of religious traditions. Schools to re-educate and intimidate clients, fines for kerb-crawling, posting of men's photos on websites to shame them are descendants of late 19th-century campaigns that had activists running after prostitutes and their clients in the streets. The law can win in the Irelands and France as well as Norway, Iceland and Sweden because the concepts being promoted resonate amongst moral crusaders in all these societies. When the law doesn't win somewhere in one parliamentary vote it may win on another occasion, because campaigners certainly do not give up just because they did not win the first time.
Last week I mentioned feeling we were moving into a period of Social Purity, which some objected to. A week later I still feel that way and have gone back to re-reading some texts on the subject I first read more than ten years ago. Will report back.
–Laura Agustín, the Naked Anthropologist