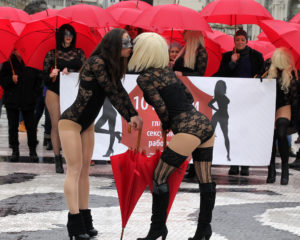 Last December I was in Skopje, the capital of Macedonia, on the occasion of International Day To End Violence against Sex Workers. This is what the sex workers' march looked like on a wintry day. (2 Photos Credit: МИА, see Star Sexwork for more).
Macedonia isn't a member of the EU because Greece objects to the name: political men's clubs, eh? For myself, when asked if I'd been to the Balkans before I had to say Does it count if it was in the 70s? Obviously it doesn't in terms of knowing anything except what a few places looked like to a young hitchiker down the Yugoslav coast. Then I was on my way to Greece and Egypt and points further south and east, and now I did recognise traces of the Ottoman in Skopje.
The sex workers of STAR gave a red-light performance for hours on the evening of 16 December, and Vanco Dzambaski took four pages of gorgeous photos of the event. In this one I'm outside looking up in company of Slavco Dimitrov of the Coalition Sexual and Health Rights of Marginalized Communities, who invited me to Macedonia.
This kind of venue – window prostitution – has never been part of Macedonian culture, which for a long time had regulated brothels typical in European history. As the time passed I began to feel we were watching a performance of modernity – the message to passers-by See what our profession looks like farther north. STAR's live-stream of the event can be watched.
The performance went on for hours with breaks, and I moved from inside to outside, including across the large street to get a faraway view. I'm in the long coat.
In between sessions in the rainy streets we repaired to a bar where this Balkan Noir shot was taken. Slavco and Stefan Bogeski at the centre, me in the back head in hand, Dragana, Simona and Virginia at the edges. Thanks to all who showed me around (including Marija from HOPS), occasionally translated an alphabet I'd mostly forgotten, waited outside while I visited churches and peered at things. Especially thanks to those who responded when I insisted I needed Real Tea by taking me to a (conventionally) men-only café in the old bazaar. A big high-ceilinged room, no decor on the walls, no food, no games, just two screens showing different football matches, tea and cigarettes for men at wooden tables. It was heaven and made me feel I had 'been there' before.
As for my own invited talk, it looked like this, though none of the shots show how many folks were there. They had to bring in extra chairs, quieten partying children and all because there I was, waving my hands around as usual in front of a well-chosen photo from my collections of Women In Motion. It was said to be the first time anyone had talked like that in Macedonia – in terms of the 'trafficking' narrative, I take that to mean. One questioner said he assumed I myself had been a 'sex-slave worker' which shows how the media have confused things.
Thanks to Irena the moderator and Anna in the simultaneous translation box in the back. Lots more pictures were sent me, thanks to everyone who helped. I'm looking forward to my next trip out of Europe and into the Balkans. My only complaint about the whole thing were border-shenanigans leaving and entering Schengen at Vienna airport: once was already too many times.
-Laura Agustín, the Naked Anthropologist