I was glad to be able to participate in the Strike4Decrim events on the evening of 8 March – International Women's Day. In general I'm no fan of official 'days' to celebrate supposedly coherent groups: mothers, fathers, women. Inevitably the differences get smoothed out and mainstreamed, many feel excluded and some feel seriously annoyed. General 'women's gatherings had taken place earlier in the day in a straighter part of town, but although Soho is getting blander all the time, a little kinkiness remains.
Here's me talking for five minutes at the start, before we marched. The photos are by Alexander Schulenburg, who approached me to say he liked my talk and later tweeted on the event. I also ran into sex workers met in other countries and other years and some I worked with as far back as 2005. I appreciate being reminded of the continuity and feeling surrounded (notes of my talk at the bottom).
Why call it a strike? The word is meant to recentre women's work, specially invisible things like 'caring' and reproductive labour. The intention was to expand the concept of strike and 'use tactics and perspectives that think about how we struggle at the point of production and reproduction'. By including a sex workers' rights event on the day, what gets counted as a feminist issue was expanded. I was glad to be there, given lamentable histories of leaving sex workers out.
My notes for the five minutes
Rights movement stronger now – multiple groups but we work together better than we used to
Regular folks seem to understand the idea of labour rights better
But the hostility of the Establishment hasn't improved – folks who work in government, whether politicians or Home Office
They pay too much attention to anti-prostitution activists, radical feminists
The other day a few former sex workers won a case in the High Court to remove the requirement to tell employers about past soliciting convictions. Good, right?
Problem is they won on the basis that they were coerced victims.
The judge said it was 'greatly to their credit they had succeeded in removing themselves from prostitution'
Casual dispensing of morality by a male judge
If you want to know what patriarchy is – it's this!
If you want to know what infantilisation is – it's this: talking about women as wayward children to be patted on the head if they do as they're told
It appears that to benefit from this small bit of decriminalisation you must repent of your sin of being a prostitute, otherwise you keep those convictions on your record
even though it is legal to sell sex in this country
The selling of sex is still firmly framed as a social evil in laws and regulations
Great distance between that and ideas about human rights, workers' rights
Migrants, even if their presence is legal, are most likely to be called victims of trafficking if they come to police attention and are lucky if not deported
The kinds of freedoms and treatment most women take for granted are not granted to sex workers
Gatherings like this one are important – so we can see each other outside in the street caring about the same things
To me this fits the idea of 'strike'
Not silence – NOISE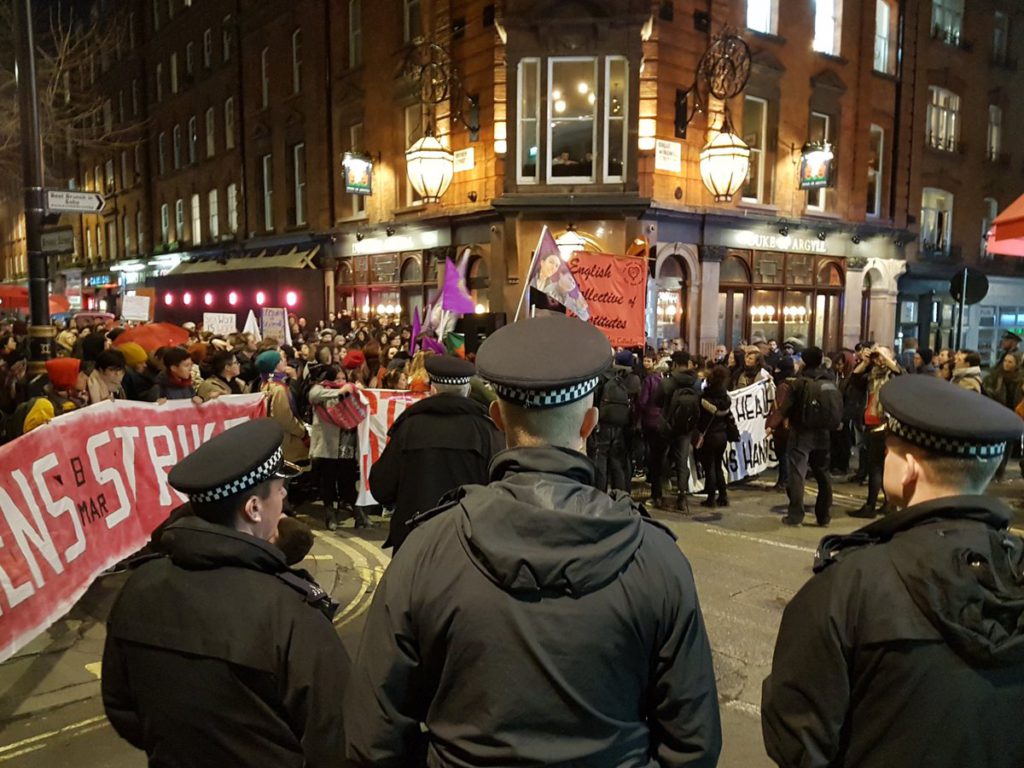 Police were also offered leaflets.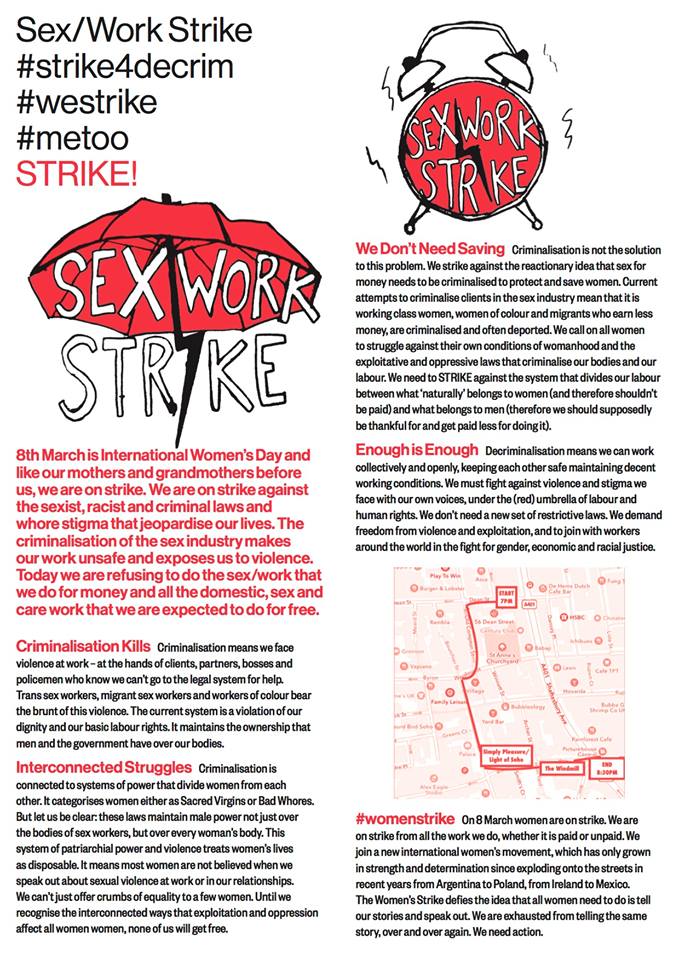 -Laura Agustín, the Naked Anthropologist