By Gloria! Look Who's Here to Protect Victims with Money and Might reads the giddy headline. It seems that Warren Buffet's son cannot bear to be left off today's showiest philanthropy bandwagon: Rescuing women from prostitution. And neither does Ruchira Gupta intend to be left off today's biggest social-work gravytrain: Funding for sex trafficking victims. And what better way to get attention for the cause than to bring Gloria Steinem in to pose for pictures?
So here's how to make sex trafficking into your own project, laid out clearly in an article from The Telegraph of Calcutta (a paper Gupta once worked for). Note that it is important to pretend you are the first to take on trafficking, to go look at poor prostitutes in their habitat and to talk with women who hated the life. It's definitely Reality Tourism. What's really ridiculous here is bringing in an outsider when India has a long history, both intellectual and activist, in thinking creatively about sex work (consider DMSC's many initiatives), and consider the comment at India Today: Do we really need Steinem to tell us that prostitution is about 'an unequal distribution of power' or that we face an 'epidemic' of sex trafficking?
The epidemic is rather of tourists from the US claiming expertise without reading up even a little of the complex literature before they start posing for photo opportunities. Steinem embarrasses herself further by claiming some lifelong connection to Calcutta when she cannot even remember where she stayed 50-some years ago.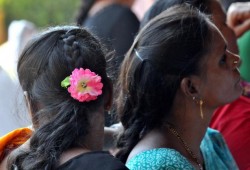 Most serious however is to hear Ruchira Gupta calling for a stop to AIDS funding that provides sex workers with condoms; she wants them to get out of prostitution instead. At her and Steinem's event in Hyderabad the other day, sex workers like these in the photo to the left were ignored. In the story below about Calcutta it is claimed Gupta and Steinem talked with some, but no report on how that went.
The story is full of silly words. Everyone has to be an icon nowadays. But do icons camp in town? Steinem ideates for thought leaders. Gupta pretentiously claims a connection to Gandhi for Apne Aap, a traditional Rescue project that calls all prostitution rape. Classic colonialism all around, with outsiders needed to protect with money and might.
A-team to tackle sex-ploitation
Mohua Das, 9 April 2012, The Telegraph
The day screen icon Shah Rukh Khan and his KKR XI were struggling to make an impact at the Eden Gardens, an 11-member team led by feminist icon Gloria Steinem and including philanthropy icons Peter and Jennifer Buffett, was quietly camping in town to make a difference where it really matters: putting in their money and their might to battle sex trafficking.

A "learning tour" ideated by Steinem, funded by the NoVo Foundation run by the son and daughter-in-law of Warren Buffett, and steered by Ruchira Gupta, founder of Apne Aap Women Worldwide, had brought together 11 thought leaders in a city where hardly anyone of global significance spends any time any more.

The high-profile champions of humanitarian causes from the US and Canada (see chart) arrived hush-hush on Wednesday, spent two days observing the red-light district of Sonagachhi, visiting the Victoria Memorial and interacting with members of Apne Aap.

At a dinner hosted by Harsh and Madhu Neotia on Thursday evening, 78-year-old Steinem, who had briefly lived in Calcutta five decades ago, told Metro: "I came to know of Ruchira's work and I wanted to support her and be helpful. We wanted other people to see and meet the women of Apne Aap and so I thought if we got a group to come here and understand what's happening, they too would become attached and become supporters." The 'they' in question included Peter Buffett and his wife Jennifer whose NoVo Foundation, a philanthropic organisation to promote the rights of girls and women worldwide, took the lead in organising the learning tour.

"We got together this group of people interested in learning more about how to end sexual exploitation and to specifically learn from the model of Apne Aap," said Pamela Shifman, director of initiatives for girls and women at the NoVo Foundation and the first person who Ruchira connected with in the group. Ruchira founded Apne Aap Women Worldwide with 22 women from the red-light districts in Mumbai in 2002 before expanding its offices in Delhi, Calcutta, Bihar and New York.

"It's a learning tour for the group to understand the Apne Aap approach. We have been travelling around India but we are particularly concerned about the situation in Calcutta because of Sonagachhi and the legitimisation of sexual exploitation there. This group is here to see this problem in Sonagachhi and also to see the solution that Apne Aap has created," said Ruchira.

A former journalist with The Telegraph, her 1996 documentary The Selling of Innocents had exposed the trafficking of women from Nepal to India and won her an Emmy Award for Outstanding Investigative Journalism. In Calcutta, Apne Aap operates in areas like Kidderpore, Munshigunge and Watgunge. Steinem, who lives in New York, is a chair on the advisory board for Apne Aap.

The six-day India tour started on April 2 with a visit to Gandhi Smriti in Delhi, as Apne Aap is modelled on Gandhi's social justice framework, Ahimsa (non-violence) and Antodaya (power to the last wo/man) being the cornerstones. After a meeting with Apne Aap girls and a speech by Steinem at JNU to mark the 10th anniversary of Apne Aap, the group arrived in Calcutta on Wednesday before leaving for Bihar on Friday.

Day One in Calcutta was spent in a visit to Sonagachhi. "This red-light area is becoming a magnet for traffickers and Murshidabad, the Sunderbans and New Jalpaiguri are becoming high-risk areas. It's a shame that Calcutta allows Sonagachhi to exist," said Ruchira.

On Day Two, the group attended a panel discussion with survivors of prostitution followed by interactions with people who want to legalise prostitution and believe sex should be called 'work', and meetings with Apne Aap women's groups.

For Steinem, it was her third visit to India on an Apne Aap project. "India's been a part of my life since I was 22. First of all, I was a student in India on fellowship, in the Fifties. I came for a year and stayed on for two years. That's when I also lived in Calcutta for a while but it was so long ago, either in 1957 or 58. I was staying with a friend but I just can't remember where…. I think somewhere near the Calcutta University," said the pioneer of the women's lib movement in the 1960s and '70s. Steinem even recounted writing a guidebook on India, "trying to persuade people to stay longer in the country".

Now, for Steinem and Ruchira, sex trafficking is an invisible black hole, and its victims the last frontier of humanity. Apne Aap, while firmly opposing "people trying to glorify prostitution but actually legitimising repeated rape in Sonagachhi", has been organising women and girls in groups of 10 inside slums and red-light districts to resist traffickers and pimps in Delhi, Bihar and Calcutta.

"There's something lopsided about the AIDS lobby around the world that tries to protect male buyers from disease rather than protecting the women from them. We need to bring attention to this, that this kind of funding has to stop and investing in funds that give these women more choices other than prostitution has to start," explained Ruchira.

"That's when Gloria suggested that we create a group of people and organise an alternative sex tour where they can come and see what is going on in these red-light districts and also understand the Apne Aap approach." So what would Steinem prescribe to combat trafficking in this part of the country? "I don't want to arrive for a few days and dictate…. In America too, they tend to arrest the prostituted women and not the traffickers, pimps or brothel owners. We should arrest the criminals and support the victims."
—Laura Agustín, the Naked Anthropologist