Photo of Laura Agustín by Workers Solidarity Movement (Ireland)
Doing public gigs exposes one to all sorts of comment, some nice and some not so nice. At University College Dublin I sketched out the ideas in Sex at the Margins – a book that began in the early 90s with me listening to Dominican villagers, ten years later became a doctorate on the Rescue Industry and three years after a published book. At the Anarchist Bookfair I talked about Sex Work as Work (a video of the talk will be online soon).
This talk was only 30 minutes long so I had warned I didn't intend to get bogged down in arguments about the meaning of prostitution. Nevertheless, the first person called on after my talk began to lay out an argument that prostitution is oppression of women and so on, so after not long I interrupted her from the stage to ask Do you have a question? No, she said, she wanted to debate. I said, This time is for questions about my talk. She quickly framed one, which was
Will you condemn the sex industry as patriarchy?
I said no, because that question is too broad and general to have meaning for me. It's a bottom-line question, and by saying no without explaining all the ins and outs of my thinking I will have sounded like an anti-feminist to some. But if I travel so far to speak without pay I really do want to hear audience reaction to what I do say, not to what I don't say.
All other questions asked were interesting, but at the end there was
How can we move toward a society in which sex is not commodified?
Photo by Workers Solidarity Movement (Ireland)
Anarchism takes in a wide variety of ways of thinking. I accept that talking about revolution and how things would be afterwards is really interesting and important to many, but my talk had been about feet-on-the-ground ways to better the lives of people who sell sex through employment policy and organising. So I replied
I don't know. Everything else is commodified, why should sex be different?
This provoked a tweeter to say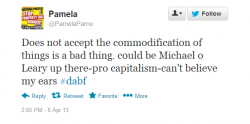 Michael O'Leary, the million or billionaire owner of Ryanair, is widely hated in Ireland. I can't find a single significant thing he and I have in common. When I have more time to talk about commodification I discuss the odd point that even mother love is accepted by most of the same objectors as being ok to buy and sell in the form of nannying and caring for children and older and sick people. The same tweeter said
Although an interest in revolution and utopia are only one of many possible topics subsumed by feminism or anarchism or any other ism, those wanting to discuss them always assume the moral high ground. Practical, pragmatic arguments about the here and now would seem to occupy a lower place in the hierarchy according to some. But not according to me, and I also dislike being challenged to show I am a good or righteous person publicly, merely as an exercise to label me – really to show I've failed some ethical test.
People ask me how I deal with being disliked or vilified. I accept that appearing in public exposes me, and I don't always express myself perfectly. I don't read prepared papers and I avoid standing behind protective podiums. I'm not a trained performer. But beyond those reasons, in order to talk about the formal-informal sector divide in government accounting and how it affects employment policy, the ILO's conclusions in its report The Sex Sector and what the term 'sex industry' comprises, in 30 minutes, one has to omit the disclaimers. I could begin every point by condemning inequality, sexism, racism, imperialism, the oppression of women and poor people, but then I would lose a big chunk of the time I've got for the talk, and I'm not willing to do that. So I regret when I am misinterpreted badly, but I accept that it comes with the territory.
–Laura Agustín, the Naked Anthropologist
Coda