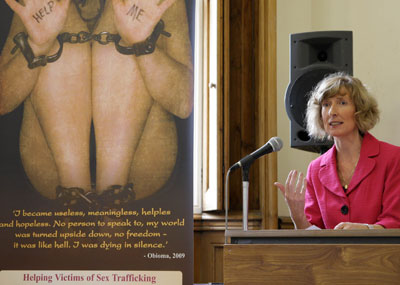 On the left you see the now common phenomenon of nicely dressed women attempting to save naked Other women from the chains of sex slavery. In England and Wales, the Policing and Crime bill that just came into effect says it will help stop trafficking like this:
On 1 April 2010, it will become an offence to pay for sex with someone who has been forced, threatened, exploited or otherwise coerced or deceived into providing the sexual services by someone else who has engaged in such conduct for gain. If convicted of the offence you could face a fine of up to £1,000, a court summons and a criminal record and risk having your name mentioned in newspapers. It will be no defence for a person to say that they did not know the prostitute was being forced or threatened.
The last sentence is known as a strict liability defence, invoked in situations the law believes to be 'inherently dangerous', which is how the British government now views prostitution, in a breath-taking reproduction of all the worst cliches generalised to 'most' and 'many' women who sell sex (and, as usual, only to women):
Most women involved in street-based prostitution are not there through choice. They are among the most vulnerable people in our society. Nearly all prostitutes are addicted to drugs or alcohol. Many of them have been trafficked into the country by criminals, and are held against their will. Many were abused as children, and many are homeless. Kerb crawlers, on the other hand, have a choice. Men who pay for sex are indirectly supporting drug dealers and organised crime groups, and funding violence and abuse. They are fuelling the exploitation of women by creating the demand for prostitution.
Most commentators object to how the law unfairly affects maids, managers and other conventionally employed people who work in sex venues without selling sex themselves – as well as unfairly condemning sex workers to constant aloneness. The law is also unworkable as a way to stop trafficking, as I wrote in The Guardian at an early stage of the bill:
The police will have to identify the real trafficked victims in order to identify customers at fault – a notoriously difficult enterprise. In a few high-profile cases, self-identified victims name and help find their exploiters, and sometimes these traffickers are successfully prosecuted. But these cases are few and far between. More often it is difficult to point to migrants who knew nothing about their future jobs, who agreed to nothing about their illicit travels and who are willing to denounce perpetrators who may be family or former friends and lovers.
The editors almost instantly hid the piece where it wouldn't be seen.