Here's yet another illogical idea: tax sex workers even though their work is illegal. And some sex workers say they would be happy to pay the tax if it stopped arrests. I believe this is better described as extorsion: you pay us and we'll let you conduct business – unless they somehow legalise sex work as well.
2 July 2009, Walakira Nyanzi, Ultimate Media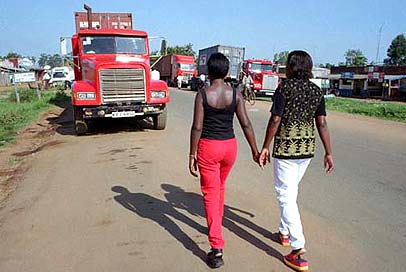 Commercial sex services in Kampala and the nearby districts are likely to cost more following an introduction of an annual operating fee by the local authorities. The authorities have ordered commercial sex workers in divisions to pay 100,000 shillings before they are allowed to operate.
The Resident District Commissioner (RDC) of Kawempe, Edward Sekabanja says the move is aimed at reducing prostitution in Kampala and other towns. He says Kampala, Mukono, Wakiso and Mpigi RDC's in their recent general meeting proposed for the new tax and urged local authorities to implement it.
Sekabanja also urges government to come out with the law that will legalize tax for sex workers. Sex work or prostitution is still a crime in Uganda. Sekabanja says there are more than 5,000 sex workers permanently stationed in Kampala alone. The RDC says town councils will be able to collect millions of shillings if the sex work tax is fully introduced in all town councils.
According to research this reporter conducted from the main sports of Kampala where prostitutes operates most, sex workers earn an average of 15,000 shillings daily. This writer talked to most of the sex workers in Kampala but the majority of them said the tax is illegal but they are ready to pay it to avoid arrests.