HIV and Disease – Violence and Exploitation – Crime and Punishment – Moralising and Ranting: This is what most writing about prostitution and the sex industry come down to. A few years ago, in the name of just plain knowing more about what so much debate and conflict is about, I proposed a new field of study to be called The Cultural Study of Commercial Sex. All sorts of sex businesses, from regulated brothels to street work, are included in the idea of the sex industry, and all participants are included: clients and workers (whether escorts or in brothels and massage parlours or lap dancers or street hookers). Also managers, madams, pimps, 'traffickers' and owners of businesses, as well as vendors who sell to workers in the venues, and so on.
Elena Jeffreys of Australia's Scarlet Alliance of sex workers has sent me her contribution to an issue of the Journal of Australian Studies called Parading Ourselves (#89, 2006). That title is what first caught my attention. The issue is about the different meanings of public protests, marches and processions – anything that can be called a parade – and includes items on military masculinity, indigenous people's revolt against whiteness, mardi gras and, in Jeffreys's case, Contemporary Sex Worker Cultural Practice in Australia: Sex Workers' Use of Sex Industry Skills in Public Protest and Performance. Here's the link to the article, but I'm afraid only academics can get access to it without paying.
Jeffreys notes:
Dominant social mores demand that sex workers are invisible. Discussion, disclosure, recognition and visibility of the sex industry is perceived as evidence of a 'slight' on society, at best impolite and, at worst, to deserve micro-management on the visual landscape with criminal penalty for non-compliance. The stigma and discrimination sex workers experience when their sex-work status is known is a punishment for their 'indiscretion,' however it is hard to know if it is the act of sex work that is challenging to mainstream society, or the first-person telling of such acts, by sex workers in particular.
Examples of performance/protests described:
Christmas Eve Demonstration outside Northbridge Police Station 2002
Dressed in red and green, and wearing identity-concealing fluffy white beards and face masks, the sex workers approached the Northbridge Police Station as a group . . . carrying armfuls of large boxes wrapped in glossy Christmas paper and marked with large labels. . . A song had been penned by the sex workers, titled 'Silent Whores' and sung to the tune of Silent Night, telling of police corruption and sex worker objections. The new laws were outlined in bold letters on the gifts, reading 'Strip Search Without Charge,' 'Enter Premises Without Warrant,' 'Move On Notice' and 'Restraining Order' framed by the message, 'To the Police, Love from Michelle Roberts xx'.
Lamington Ladies Stall at Dumas House 20th June 2003
The West Australian sex worker community fought back by adopting what is recognised in Australia as a modern archetype of wholesome family goodness, a character you can trust with your money and what you put into your mouth – the Lamington Lady. Dressing as Lamington ladies challenged the over-sexualisation of the issue in the West Australian media and refocussed on the issue of community services. . . Pastel pink and blue tunics made the basis of the transformation, with cream and white stockings, sensible shoes, frilly aprons and catering caps. Standing behind lace topped card tables with plates of lamingtons, the activists smiled for the cameras and explained that they had lost all of their health and advocacy services
Debby Doesn't Do It For Free, a group of performers all named Debby.
In February 2004 they performed their first full length cabaret show, complete with mock national anthem: "Advance Australia Fear" . . . and 'Olympic Whore', which involved performing feats of gymnastic capability while demonstrating sex on a massage table . . . Other aspects of the performance included Mr Big Pants, a politician who claims to be 'helping' sex workers while trampling their rights . . . and live vaginal fisting on stage whilst reading poetry . . . These performances use archetypal characters to convey little-heard messages about sex work and its complexities, from a purely sex worker perspective.
Congratulations are due to sex workers in Australia for their cultural creativity and actions that blur the supposed lines between suffering and pleasure and injustice and power.
And if anyone wants to know what a Lamington is: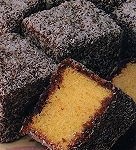 :