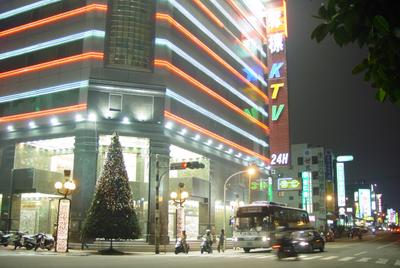 Karaoke is an entertainment activity some people hate and some love. It takes different forms, and one seems to belong in the sex industry. This is KTV  – karaoke television – where groups of friends hire small rooms and the services of women to drink and sing with them. These places can look quite grand outside and in the lobbies.
Who can explain what all the little objects are in this picture of a karaoke customer? Is it a boutique or a museum? For more about KTV in general go here.
Apart from the singing and drinking, there are possibilities for flirting, snogging and making assignations. Host and hostess clubs offer the same sort of opportunities. But there is an element that links these sites more closely to the sex industry: the use of line-ups like in many brothels.
I have not read research about these places; tell me if you know of any. The following are comments from one ktv fan forum:
A room for four guys:

Minimum room charge: Average – 1000rmb
Bottles of Whisky: 600rmb
Beer: 40rmb
Food dishes: 30rmb

Normal girls: 300rmb
Models: 500rmb (not really models, just tall)
"Special" girls: 500rmb (These are the ones that will supposedly go home with you for an extra charge.)
Dancing girls: 500rmb (These are basically strippers)
Mama-san: The same price as the girls.
Waitress: 200rmb
I realise that some people may find the above list distasteful, but if we want to understand what's going on in sex work we have to face all the realities. I also just uploaded a photo to my sex industry album on facebook (open to non-members, too), which demonstrates price-differentials according to social prestige of phenotypes or perceived ethnicities:
This kind of prestige is relative. A 'Russian' will not always command such a price, and so on.