As if Human Trafficking weren't an already over-used, ambiguous, confusing term for a raft of phenomena, some influential characters want to replace the term with Modern Slavery. I marvel consistently here and on facebook and twitter about the predominance of misleading terminology not only from voracious Online Editors but also from moral entrepreneurs, politicians and now, ever oftener, the police.
The following objection about Modern Slavery is from Mike Dottridge, whom I met long ago when I still didn't know that everything I was interested in was destined to be called Trafficking, and nor did he. Notes on the photos at the end.
The UN Trafficking Protocol of 2000 describes various forms of exploitation: slavery, forced labour and types of servitude such as debt bondage. Now individual philanthropists and politicians are pushing to substitute the term Modern Slavery for Human Trafficking. What happens then? Bear in mind that a slave is defined as a person who is the legal property of another or can be treated as such: they can be bought, sold, traded or inherited. A slave is a personal possession – a chattel.
*Westerners are happy to use Modern Slavery for a wide range of common practices in developing countries, such as the use of bonded labourers in South Asia or of indigenous children as domestic workers in Paraguay. But human-rights defenders say using the term won't help them combat specific forms of exploitation they oppose, because slavery simply means something else in their countries.
*Using the term Modern Slavery precipitates us into name-and-shame mode, pointing the finger at governments and businesses which tolerate it. It implies that countries with large numbers of slaves are allowing something awful to occur. So, instead of the Development/cooperation paradigm that was dominant in the second half of the 20th century, with richer countries supporting efforts to bring about social and economic change in poorer ones, we revert back to the 19th-century idea that some uncivilised countries require pressure from civilised ones to abandon unacceptable practices. There are plenty of problems in the way Development policies are applied, but shaming governments into recognising that slavery is occurring in their countries is an example of the wrong way to achieve international cooperation.
*In the minds of people in Western Europe and the Americas, the word slavery refers to the transatlantic slave trade. Using the term for levels of exploitation which do not meet the legal definition trivialises historical chattel slavery and reduces any sense of responsibility in countries that benefited from it. This fits neatly into the agenda of white supremacists who dismiss contemporary racism and discrimination against the descendants of slaves. We should avoid terminology which sounds imperialist and potentially racist.
*This brings me to one of my deepest worries, that the governments that have decided to use Modern Slavery (Australia, the UK and the USA) are also those keen to abandon conventional approaches to Development. Earlier this year Australia and the UK used bullying tactics to persuade others to follow their usage at a UN Security Council debate about trafficking, slavery and forced labour in the context of armed conflict. I fear that moving from the term Trafficking to Modern Slavery opens a Pandora's Box, with UN organisations like the ILO and UNODC vying for influence, and Australia, the UK and the USA pushing for the term Modern Slavery while the Russian Federation and its allies disagree. This then becomes part of today's Cold War between East and West and provides an excuse for neither side to take significant action.
*Rich philanthropists interested in financing anti-slavery organisations are not trying to persuade governments to respect the human rights of people who have already been exploited or to reform employment and immigration systems to reduce future exploitation. Philanthropists put emphasis on the responsibility of consumers and businesses but only ask governments to enforce laws. This undermines respect for human rights in general and in particular for the human rights of migrants and others who are abused and exploited.
*The types of exploitation implied by Modern Slavery encourage many government officials to stop paying attention to conventional techniques for protecting workers such as regulation, workplace inspections and trade unions. By creating the impression that they are helpless slaves who need rescuing from the hands of criminals, they propagate a myth that all informal work that helps migrants to survive is illicit and should be prohibited, thereby denying migrants the lifeline on which they often depend.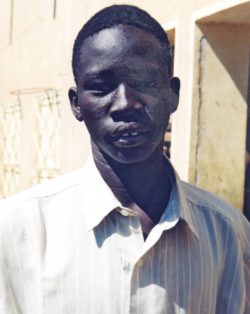 I've been an ardent critic of the way a poor legal definition of Human Trafficking has required years of debate to clarify, still without total success, so I'm loath to see yet more time and money wasted on disputes about definitions and concepts. Instead I want to see investment in action to stop unacceptable exploitation and assist the victims.
Notes from Mike on the photos: At the top are Manjok and Awut and their son Mohammed, who had been abducted and held separately and only married and had their son after release. I met them in Ad-Dha'ein, a small town in South Darfur near what is now the border of North and South Sudan in October 2000 after they had been released from captivity. Of course, they look like ordinary people, rather than 'slaves'. Above is Bol, who was about six when he was abducted and spent about a dozen years in captivity. I met him in Khartoum.
Mike Dottridge was director of Anti-Slavery International from 1996 to 2002. For more detail see Eight reasons why we shouldn't use the term 'modern slavery'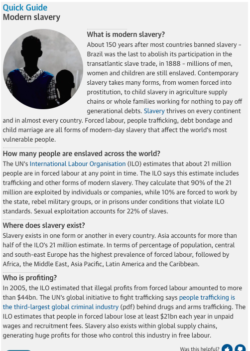 Just yesterday the Guardian published this info-box on Modern Slavery. I'd say the substitution is well under way and expect loads of new confusion on the part of all and sundry.
In the first novel in my crime series, The Three-Headed Dog, migrants in Spain use slavery-words in the informal way we are all accustomed to. Here is young Eddy, who is happy to have a low-paying job in a bar where he sleeps on a pallet in the basement:
He did wonder sometimes when a customer joked about lazing around the beach. One guy said 'What's it like to work for the first time in your life, instead of sitting around drinking from coconuts?' Eddy went on picking up glasses and putting them on his tray. He had never liked coconut, and the boss had said not to get into conversations.

In the kitchen a boy with Indian-type features said, 'Fucking Spanish racists. First they go and commit genocide in our countries and take everything we've got. Then they leave us to die in poverty. Now when we come back here willing to work for starvation-wages they treat us like dirt.'

Eddy objected. 'But all that was ages ago. Santo Domingo is the first place they went to, I know all about that. But nowadays is different.' Hell, it was like those endless demonstrations at home, long-haired political types going on and on about the conquistadores and US imperialism. He found politics boring.

'You wait,' said the other boy, squirting detergent into the pan. 'Some of them hide what they think because racism is out of style, but in the end they're all alike. I'd rather die than live here and be a slave like this, but my mother needs an operation. If I could get money any other way I would.' He banged a glass, and it broke, which would be deducted from his wage. The Three-Headed Dog p 148
I don't want to stop folks using slave as a metaphor in everyday life, but in official and quasi-legal language I sure don't want the already dysfunctional term trafficking replaced by slavery, whether modern or antique. And as for the yellow-press term sex slaves…
-Laura Agustín, the Naked Anthropologist