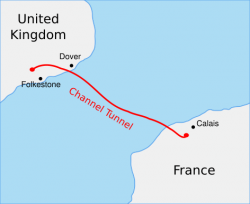 Mexicans running across deserts in a ragged line: that's the only image many people have seen of undocumented migrants sneaking aross a border. Videos from the BBC show one of numerous other ways. The scenes were shot recently in and around Calais, the closest French port to the UK and the entry to the Channel Tunnel. The first video shows migrants, apparently all men, attempting to jump into the backs of large trucks without being spotted by police or drivers. The report shows the informal camp, which is horrible, where migrants wait until they make it onto a truck (if they ever do). The back doors must be quickly openable, so there are people hanging about to sell advice about which lorries to try. The second video addresses the same phenomenon from the point of view of truck drivers and police. Note how public it all is. [The introductory advertising bits are quite short, hold on]
An earlier post discussed an Observer article illustrating the chaos in this small part of France. There used to be an official refugee camp at nearby Sangatte that migrants waited in, but the British pressured the French to close it several years ago. Since then, makeshift shacks and tents have grown up without control. The other day, however, French police swooped in and rounded up many migrants. The BBC says:
The police operation came two days before Immigration Minister Eric Besson was due to visit Calais for talks on the migrant situation, a state spokeswoman said.

"It is an attempt to dismantle people-trafficking networks," she said. "It is an operation to destabilise the networks and try to find the smugglers."
Really, the word trafficking is being used for everything.  The contradictions are impossible to resolve: migration law versus 'humanitarian concerns'. Where will these migrants move to when policing makes the Calais area too much trouble and danger to deal with?