Sex boxes are not boxes. And they are not Dutch-style prostitution windows, either, as a lazy reporter at Spain's ABC egregiously wrote. In English these are called booths or boxes and even garages, but they are parking spaces with walls on three sides. Germany and the Netherlands have used these for sex-money transactions for years: This is not Big News.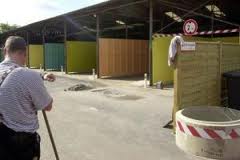 The announcement from Switzerland was Zurich regulates sex industry: this is a story about regulation, city planning and social welfare. In the announcement on a new policy, Michael Herzig, whom I met when giving talks in Zurich, said:
We want to regulate prostitution because until now it was the law of the jungle. . . It was the pimps who decided the prices for instance. We want to as much as possible the city to regulate prostitution, the city to define what we have in Zurich. . .  but we are trying to go to a situation which is better for the prostitutes themselves, for their health and security and also for the population which lives in Zurich.
The purpose is to screen the sight of people having sex in cars; the pictures here show examples of boxes in other places; we haven't seen the design for Zurich. The spaces will be located in an industrial area of the city. Herzig said
The big difference is that until now prostitution has been in the public space. Now we are going to change this, move it from the street to a private space in an old industrial area, which belongs to the city. This gives us the possibility to define the rules of prostitution in this area.
The policy is also about harm reduction, as the spaces/boxes include features intended to increase safety for sex workers and avoid condom rubbish in the street. Sex workers will be required to buy medical insurance and a licence to use them, and put five Swiss francs into a roadside ticket machine each night when they clock on.  This is pragmatism at the highest level; thus the absence of moral outrage on anyone's part in the announcement – not about AIDS, trafficking, crime or victims.
What isn't mentioned however is that, whenever this sort of plan arises, anywhere, numerous street workers simply refuse to transfer their activities to the regulated zones, which are always far away from bustling areas if not in downright deserted ones. Instead, they move into some other commercial/residential neighbourhood, where the cycle begins again. Clients in cars may well be willing to drive to the new zones; it's the sex workers that don't like them.
The other side of this regulation means prohibition of street walking on the Sihlquai, where residents have long been complaining for the usual reasons: too much noise and mess, too close to children. In this report from swissinfo.ch, an increase in numbers of sex workers is attributed to migrants from eastern Europe; in Zurich they have largely come from Hungary.
Note on the legality of selling sex in Switzerland: The official line is that only completely independent sex work is permitted (windows that look like this on ordinary houses are common). There are, of course, scads of businesses providing workplaces for workers, but the owners call the workers sub-contractors, which supposedly means the owners are not employers and thus not capable of 'exploiting' anyone. Typical city-father contradictoriness where commercial sex is concerned.
For anyone interested in the background to this policy-change, I published the following news story a couple of years ago, when sex boxes were also in the news.
Zurich ponders use of 'sex boxes' to control prostitution
by Marta Falconi, 3 September 2010, Swisster
After encouraging results in Germany, Zurich city officials are considering the installation of "sex boxes", fenced parking areas, where prostitutes and their clients can conduct business away from the public eye. In a city where prostitution is on the rise, the measure could help protect residents and prostitutes alike. The drive-in "sex boxes" resemble makeshift parking spaces, surrounded by three tall metal fences to provide more privacy for prostitutes and their clients.

Already in use in some German cities, such as Cologne and Essen, the "sex boxes" are the latest idea suggested by Zurich city authorities after receiving thousands of complaints over the hordes of scantily clad prostitutes (and their actions) who patrol the main financial hub of Switzerland's largest city.

Prostitution in Zurich increased by some 20 percent last year, according to some reports, which said that police had recorded more than 3,700 sex workers, mostly operating in the former red-light district in Zurich West, around Langstrasse, known as a busy multicultural melting pot and for occasional petty crime. The women generally gather on the artery of Sihlquai – a busy road along the river, behind Zurich's main station – and wait in small groups for drivers to stop at pretty much any time of the day. The district is heavily populated and the area around the Sihlquai is also a common meeting point for students and families.

Reto Casanova, a spokesman for the Zurich police, told Swisster that the situation was "tolerable, but not as we want it". He said the sex boxes have proved successful in Germany and could be an option for Zurich as well. "We are looking for an acceptable solution for everybody, with the goal of maintaining people's safety and dignity," he explained. Casanova said the ultimate decision on whether to adopt the boxes remains with the city council. However, he added, a police delegation is planning to travel to Germany in the fall to gather more first-hand details about the practice. In Cologne, social workers have reported encouraging results from the installation of the boxes. "In the past, the street girls were often chased by police. Now the officers are even protecting this legal street sex activity," Sabine Reichard told Deutsche Press.

Further protection for sex workers is also built into the boxes' design, which provides a handy alarm for the passenger within easy reach, while the parking set-up allows the prostitute an easy escape but blocks the driver's door. So far it's unclear whether using the enclosures will require a "parking" fee .

The rise of prostitution, with most women coming from Eastern European countries, is a worrisome problem for the city and its authorities who try to control the trafficking of women behind it, especially when individuals of 16 can legally sell their services in some parts of the country. Politician Luc Barthassat has called for the legal age to be raised to 18 and told Swissinfo recently that "Switzerland risks becoming a major sex tourism destination." Zurich resident, Giuseppe Spina told Swisster he did not understand how big the phenomenon was until he found himself driving along the Sihlquai one recent night. "It is a different world, somehow connected to ours, but still hidden in obscurity," he said. "I had a problem with the car and had to stop one metre away from two prostitutes who were waiting there. I couldn't help but pity them."
Don't ask me what his pity has to do with anything.
– Laura Agustín, the Naked Anthropologist