An article in Ynetnews.com's Travel section reports that a map-brochure to attract gay tourists to Tel Aviv contains advertisements for saunas and sex shops. The pictures and presence of adverts for certain businesses cause offence to some, and comments from readers focus on how the image of Israel, as a nation (the Holy Land), may be damaged by advertising gay sex. Since the story doesn't say who exactly feels offended and uses the morally biassed word 'lewd' to describe the adverts, it would seem to be Ynet itself that objects. I've highlighted in bold some words that stand out. Here are the pictures, one of a community centre: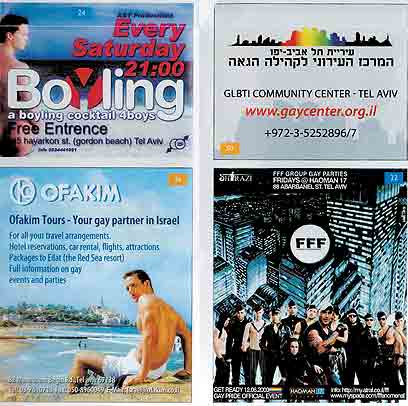 Gay tourism leaflet promotes sex shops in TA
Yoav Zeitun, 18 May 2009
A Tel Aviv city map that was distributed throughout Europe in recent weeks in a bid to promote gay tourism to the city contains lewd adverts for sex shops and sauna bars. The map was jointly commissioned by the Israeli Gay, Lesbian, Bisexual and Transgender Association, the Tel Aviv Municipality and the municipal center for the gay community. The map, which is written mostly in English, advertises 50 businesses that cater to the gay community, including gay-oriented nightclubs, Israeli travel agencies that specialize in "gay tourism", pubs and restaurants. At least four of the businesses are part of the sex industry.

One of the largest ads is for the Paradise sauna bar on Allenby Street, which offers visitors a dark room, private booths and "relaxing massages." Another ad promotes Sauna City on Hahashmonaim Street, which offers similar services. The ads also contain provocative images of muscular, half-naked men. Additionally, the map contains two ads for sex shops.

The leaflet's front cover features a photo taken during the local Gay Pride Parade, while the back cover shows four men playing on the beach. Photos of lesbian women are nowhere to be found in the publication, except for in advertisements.
The Tel Aviv Municipality said in response: "To the best of our knowledge these businesses are not illegal, and therefore should not be prevented from advertising."
The images appear conventional and harmless to anyone living in a contemporary big city. Is the Pride Parade itself annoying? What does the reporter mean to imply by pointing to the absence of photos of lesbians except in advertisements? I wonder whether the complainants in this case object to the 'sex tourism' most, to the fact that the sex tourism is gay, to sex workers or simply to the existence of out gay entertainment venues.
There is a widespread tolerance within segments of gay communities for commercial sex, whether opportunistic, veiled or cheerfully open. The result is that many ordinary gathering places tolerate sex workers and cater to their clients without making a fuss or distinguishing them from other patrons. This tolerance can be perceived as moral decay, as we see daily in both Christian and Muslim objections.
Tolerance for sex work within gay entertainment venues is felt as a relief by many, but can also mean a sort of reverse stigma, as explored in a Kenyan sex worker's story.