A new film about staging La Traviata is using the most old-fashioned and clichéd image in its publicity: that of Violetta on the floor in the classic pose of Fallen Women. Yes, I know the opera and I know the novel it's based on (La dame aux camélias 1848) and I am capable of appreciating romantic imagery and tradition. But to choose just this pathetic and highly charged pose to advertise a supposedly innovative film seems perverse and uncreative to me.
I've written before about the iconography of the Fallen Woman: her position on the ground, sometimes twisted, sometimes being reached out to by a kind person (usually a man). In La Traviata (1853) Violetta is dying of consumption, so she's also seen in pathetic poses in bed, but using the floor image in publicity photos drives home the idea that her essence is this: morally low, a kept woman, demi-mondaine, courtesan or woman
who's gone astray (traviata). At the beginning of the story Violetta is a happy-go-lucky good-time girl (though ill). Finding true love with Alfredo she is portrayed as morally redeemed and self-sacrificing.
Possibly the gay lady may come to the 'bitter end' some day, but at present, except from the moral point of view, she is not an object for commiseration. She at least has all that she deliberately bargains for—fine clothes, rich food, plenty of money, a carriage to ride in, the slave-like obedience of her 'inferiors', and the ful­some adulation of those who deal with her for her worth. Very often (though under the circumstances it is doubtful if from any aspect this is an advantage) she finds a fool with money who is willing to marry her; but whether she is content to accept the decent change, and to abide by it, of course depends on her nature. – James Greenwood, The Seven Curses of London, Curse IV: Fallen Women, 1869
Whether the staging is brought into the present or not, Violetta always has a scene on the floor to drive home her moral abjection. Why else would she be on the floor? People who fall get back up right away; if they can't, they are too injured. In Violetta's case the injury is moral. Of course people also play on the floor, but Violetta is not playing in these scenes.
A limp Violetta can signify death but also helplessness, unconsciousness, submissiveness, despite the fact that she is tremendously strong both before and after redemption through love. In the beginning she is so good at gaiety that everyone around her has fun. Later she remains faithful to Alfredo despite his father's meanness and sacrifices her own happiness for her lover. I dislike this plot, but there is no doubt Violetta is not a limp rag of a woman.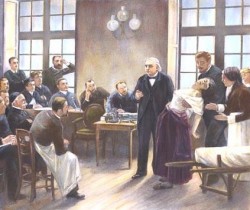 Observe the similar pose used to portray a woman hypnotised by Charcot: drooping, weak, the passive object of every male student's gaze. She was diagnosed as suffering from 'hysteria', considered to be a sexual dysfunction at the time (1885). If he were not holding her up, she would fall to the ground. I personally wish all these images of traditional passive femininity would stop being used by anyone in the present, especially someone making the film of an opera and story full of other possibilities.
–Laura Agustín, the Naked Anthropologist