It has all the earmarks of a tearjerker. The billboard erected in Phoenix, Arizona, by anti-prostitutionists looks like artwork for a 1940s paperback cover or poster for a low-budget movie. I wish I knew what specs were given the artist. I wonder if End-Demanders in the Cease network (Cease – get it?) consciously evoke out-of-date style in hopes that viewers will associate the message with Ye Olde Nuclear-Family Values.
Examples of the classic posture can be found in two seconds of searching, because Sad Women abound, including with hand to forehead. Like pearl-clutching, forehead-clutching is a classic. But with a man as subject? Not so easy, no siree. Men look solemn, fierce, outraged. The only readily-available male face looking this sad (minus the B-movie forehead business) is in Brokeback Mountain publicity, where the theme was Have Sex – Lose Everything, rather than buy sex. It seems that only sex can make men feel truly sad – or is it only men who have sex with men?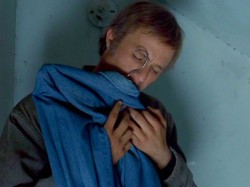 We do not know whether Lose-Everything man is sad because he has to lose all the sex he would have bought, if he had been permitted to, or because of all the sex he might have had with his wife and will now never have. Because obviously the wedding ring is going to go.
But besides the hilarious picture we have notworthit.org for those curious to know more. Could any domain-name be sillier? I feel someone may be attacking End Demand from within. A few years ago we saw a roving billboard in London that does not have the making of a B movie. The message was Buy Sex – Pay the Price, but the male figure portrayed looked more like a Cainesque Bad Boy than sad.

Sure, moralists who wish everyone would keep their sexual tastes under wraps are easy to mock. But the Phoenix billboard moves into the realm of self-parody, providing an object that will maybe strike ordinary people as too wacky to even think about. That's a good thing.
–Laura Agustín, the Naked Anthropologist