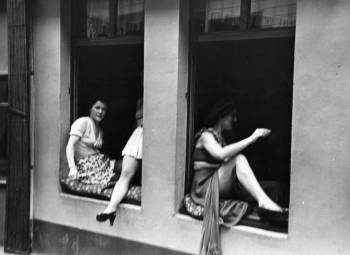 Long ago I was Managing Editor for the Chief Economist at Merrill Lynch in New York. I know what econometrics are and am not scared to death of mathematical modelling or formulae, and I don't think everything quantitative is bad – which some might conclude given my consistently harsh critique of the statistics batted around in anti-trafficking campaigns.
Now, I've been asked several times to comment on a recently published article, Does Legalized Prostitution Increase Human Trafficking? in the journal World Development. This study belongs to a trend to use econometric concepts and techniques in a (vain) attempt to prove this or that about prostitution. The popular Freakonomics guys have long liked using prostitution to make their counter-intuitive points, for example in What Do Prostitutes and Rice Have in Common?
For those who don't know, econometrics is the application of mathematical and statistical techniques to economics to study problems and analyse data. Given the conflict about trafficking statistics amongst social-justice activists and mainstream policymakers, it is understandable that more 'scientific' types should wish to bring order to chaos. I wouldn't mind if someone figured out how to use econometrics to lighten the muddy waters of trafficking policy, if there were any reliable data for them to feed into their models, spinning 'more than two million regressions with all possible combinations of variables for up to 180 countries during the period of 1995-2010', as one of the authors said about another version of this research. The problem is, fancy modelling and sophisticated analysis cannot help when the data being analysed is next to useless. The summary of this article reads:
This paper investigates the impact of legalized prostitution on human trafficking inflows. According to economic theory, there are two opposing effects of unknown magnitude. The scale effect of legalized prostitution leads to an expansion of the prostitution market, increasing human trafficking, while the substitution effect reduces demand for trafficked women as legal prostitutes are favored over trafficked ones. Our empirical analysis for a cross-section of up to 150 countries shows that the scale effect dominates the substitution effect. On average, countries where prostitution is legal experience larger reported human trafficking inflows.
Any critique of this work has to begin by asking how the authors define human trafficking, inflows, legalised prostitution, the prostitution market, trafficked women and legal prostitutes. None of these terms is self-explaining. After more than 15 years, we do not even have agreement about what the fundamental terms mean, so anyone writing in the field has to tell us which definitions they are using and they have to make sure they compare and contrast categories using the same definitions. It is not sufficient for the authors to say at the beginning that they know the terms are not agreed on and then proceed to do their fancy modelling anyway!
The best way to understand this work is Garbage in, garbage out, the tag I gave to the previous study in this series, which the present authors are trying to trump (for that analysis I got a mathematician to do the debunking). The problem of rubbish statistics goes back a long time: look at this story about supposed expert Kevin Bales, who admitted to using media reports to cook up his data. Media reports.
On top of that, the authors fail to use the statistics for Germany available from the federal police criminal institute BKA in Wiesbaden.
The number of trafficking cases before trial or sentencing

2002 — 811 victims (German prostitution law introduced)
2003 – 1235 victims
2004 — 972 victims
2005 — 642 victims
2006 — 775 victims
2007 — 689 victims
2008 — 676 victims
2009 — 710 victims
2010 — 610 victims
2011 — 640 victims
Source: BKA (the above list was compiled from the separate years' reports available under Lagebilder Menschenhandel)
By ignoring the correct figures and using strange large estimates instead, the authors conclude that 'legalised prostitution' promotes 'trafficking'. What balderdash. The article has had attention from the media, I suppose because one of the authors works at the LSE. Reporters do not, of course, understand the authors' methodology (an example) but they might be expected to have something to say about the notorious slipperiness of trafficking data.
As the anti-trafficking movement becomes institutionalised, more people join who do not realise there are serious disagreements about definitions and how to count crimes and victims. Articles like this one just contribute to the mediocrity.
—Laura Agustín, the Naked Anthropologist